Wednesday, March 31, 2010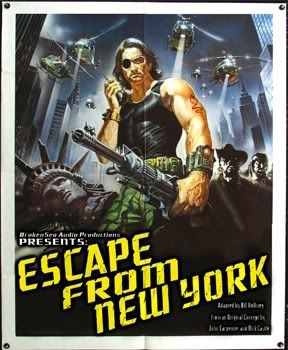 Here's the main page, it links to the 5 part mp3 series:
http://www.sffaudio.com/?tag=escape-from-new-york
Sunday, March 28, 2010
Calling all DJ's, musicians, arrangers, and producers worldwide! I am looking to provide 90 minute mix tapes to all teams that can scare up a boom box. There are no hard rules for submission, let me suggest you get a hold of the soundtrack to Escape From New York, it's packed with killer music. (Edit:)THANKS STACHE! Check the soundtrack here:
http://bksoldier.blogspot.com/2008/01/escape-from-new-york-ost.html
INITIAL DEADLINE FOR SUBMISSION MAY 15!
Some of the best tracks include..
THE DUKE ARRIVES/BARRICADE
NEEDS MORE COWBELL!!!
CHASE ACROSS THE 69TH ST. BRIDGE
THE PRESIDENT IS GONE
One of the best things about this movie is the great music! Check out some fan inspired tracks:
And the Disco Mix pressed in 1982..
Can you make a killer mix? Movie dialogue over break beats with the original soundtrack mixed in, that's what I'm looking for! Thinking the best way to submit is to upload two 45 minute mp3's to mediafire or another file sharing site. I will choose an 'official' fun ride soundtrack and
$100 US
will be awarded to my favorite one. If their is more than one killer mix, the small sum of loot will be shared equally.
Any bands or musicians that want to cover the music at a live venue the night of, hit me up!!!
Wednesday, March 24, 2010
This is a Fun Ride that will involve teams of four people in any combination, based on the 1981 John Carpenter film of the same name. If you have not seen the movie or it has been a long time, you may want to check it out. It is one of my favorites right up their with The Warriors and Godzilla vs. King Kong.
Each team will ride into New York and face different 'challenges' including a team time trial, bunny hop comp, tattoo checkpoint, bike polo challenge, solo sprints, and more.
Teams must rescue 'The President' and secure the crucial Hartford Summit audio tape and 'Escape From New York' before time is up. While in the movie Snake had 22 hours to complete the mission, your crew will be limited to 4 hours.
I have organized rides like this before, with my kid and business these days I don't have the same time to dedicate so I will be reaching out to the NYC cycling community and sponsors to produce separate aspects of the event. If you love riding/partying with your friends and/or this movie get at me. Or as Snake would say 'I don't give a fuck about your bike ride or your president!!'
Plan to have prizes for best costume, best team, fastest, best spirit, furthest traveled, ironic dialogue, best mixtape, etc.
Teams will need a boombox to compete for top prizes, also will need a bunch of volunteer 'presidents' to be 'rescued' by various teams.
Victor
has agreed to be 'The Duke' and yours truly will be filling the role of Halk, LOL.
I started this blog to get the ball rolling, it is going to be a mix of clips, updates, flyers, and random verbalization.
This event is in conjunction with
Velo City
, being held earlier that day at Kissena Velodrome. Expecting a good out of town turnout, will be giving out some nice prizes including tickets to Guatemala for
CMWC
and possibly tickets to Atlanta for
NACCC